DjMorleys Roadshow - Mobile Disco Bolton - Bolton
Thursday, 2 June 2011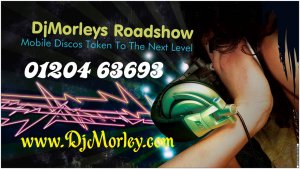 Contacts

Alan Morley

0120463693
Item description
Our Site
www.djmorley.com

We are a professional Mobile Disco and Entertainers based in the North West of England. We offer a range of excellent services guaranteed to make any party or event special. Covering the local areas surrounding Bolton and up to 20 Miles out of Bolton!


We never forget that this is your event...


We are there at your service, to represent you. We will act in a manner you require. If you want us to make announcements, tell us what and when and we will oblige. We ask you to give us lots of information at your free consultation about yourself, your event and your guests - the more you tell us the better we will be able to cater to your needs. The equipment will be set up at a convenient time for you.
however we need at least 1 hours before the start).

We ask you to let us know if there is any particular music you would like played/not played in addition to this we will email you a song request form at your booking, so that we can ensure we have them befor your occasion. This will be a good time to share this with your guest also so they to can have a say what will be played!, on the night, bearing in mind any music you Do Not want playing as it is your night and not ours.. We appreciate that the events you book us for are often occasions' of lifetime significance or at least highly important to you, there for we spend a lot of time arranging and catering your party to exactly how you want it. all packages that you book with us are equally as important and the DJ will work at his best to achieve this.


REMEMBER YOUR PARTY IS ALL ABOUT YOU


With many years' experience in performing at night clubs, weddings, road shows, private parties, birthday parties, anniversaries, charity events, student venues, theme nights, dance venues, corporate events and as a resident DJ, you can be sure of a great night's entertainment when you book us for your event... Also for each event we also bring with us a FULL laser and Light show thats in with all prices that is given for your event!!





What Styles Of Music Can You Play!

50s, 60s, 70s, 80s, 90, Cheesy, Charts, Pop, Dance, Ect Ect.

There is not really any styles we dont play we can also carter for themed Partys such as country & western night, Hawaiian Night Ect Ect...

The prices start from £150 and we neva charge more than £250 for any party unless the party last longer 5 hours!

The Start Price For £150 Can Be Made By Any Party Such As Birthdays, Kids Partys Etc Etc! Wedding Are Not Included In The £150 Offer This Will Cost From £200 To Max £250...